Radiation Survey Meters
Calibration
The Radiation Safety Section annually calibrates all survey meters at UIC.  There is no charge for this service.  If you obtain a new meter, notify us as soon as possible at extension 6-7429.  We will pick up the meter, check the calibration in our calibration range, and obtain a check source reading.  Loaners are available while your meter is being calibrated.
Operational Checks
Quarterly operational checks are performed by the Radiation Safety Section on all survey meters.  This procedure takes only a few minutes and we will perform the checks in your laboratory.
Recommended Survey Meter
Experience has shown that all survey meters are not created equally.  Some meters cannot be properly calibrated even when new.  Others are not durable and will not withstand the test of time.  We have significant experience with Ludlum survey meters and recommend them for use at UIC.  If you decide to purchase a different meter, we strongly recommend that you contact us in advance.
We endorse the meter pictured below, a Ludlum Model 3 or 14 C with a Model 44-7, 44-9 or 44-38 detector.  These moderately priced general purpose Geiger Counter instrument are well suited for detecting all commonly used radionuclides except tritium (H-3) and Fe-55.  It has a built-in speaker powered by the same batteries that operate the meter, and can be switched "on" or "off" while the meter is in use.  Leaving the speaker switch "on" does not drain the battery if the main switch is in the "off" position.  In addition, each meter range has a separate calibration potentiometer.  Survey meters with only one calibration potentiometer are usually difficult to calibrate and in many cases all scales cannot be adjusted to the required accuracy.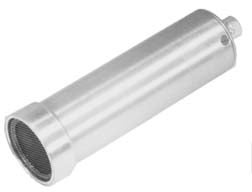 Ludlum Model 3 Geiger Counter                              Ludlum Model 44-7 Detector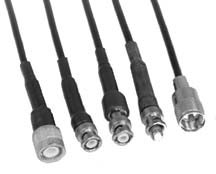 BNC Connector, 40-1008 BNC, second from left
ORDERING INFORMATION
This meter may be obtained directly from Ludlum Instruments or from Contemporary Science.  Both addresses are provided below.  When ordering this meter, specify the following information on the purchase order.
Recommended Vendor
Ludlum Measurements, Inc.
P.O. Box 810
501 Oak Street
Sweetwater, Texas 79556
FEIN: 75-1085764
Telephone: 1-800-622 0828
FAX: 1-915-235-4672
E-Mail: ludlum@camalott.com
| Part Number | Description | Image Technology, Inc. Price as of 10/01 (Includes 3% discount for UIC) | Ludlum Measurements, Inc. Price as of 10/01 |
| --- | --- | --- | --- |
| 48-1605 | Ludlum Model 3 Geiger Counter with 202-085 meter dial and 40-1008 BNC connector | $412.25 | $425 |
| 47-1536 | Ludlum Model 44-7 Detector with a 1.7 ± 0.3 mg/cm2 end window | $150.35 | $155 |
| TOTAL PRICE | | $562.60 | $580 |